Emotional Intelligence for Religious Leaders: An Interview with Author Dr. John West
Divine Mercy University's program director for the School of Counseling, Dr. John West, recently published a new book "Emotional Intelligence for Religious Leaders". The book is a gem- concise, easy to read, practical and aimed at those in leadership roles in the church. It addresses the underlying causes of the problems people in ministry may face: lack of emotional self-awareness, genuine empathy and healthy boundaries, organizational awareness, conflict management and how to leverage influence. Drawing on Daniel Goleman's factors of emotional intelligence and inspired by West's own experience in ministry, "Emotional Intelligence for Religious Leaders" is a step in the right direction toward better equipping today's Christian leaders.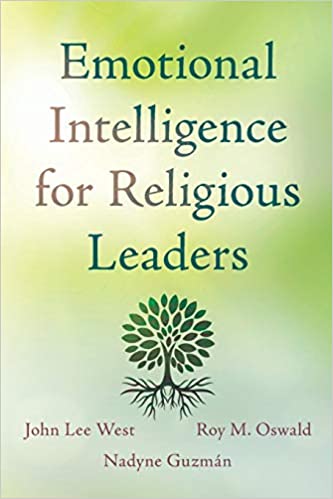 Dr. West, could you begin by telling us a little bit about yourself?
Well, so, one thing that's noteworthy about me is that I started off in ministry, it was my first career. I received my bachelor's degree in pastoral theology, and I was a youth pastor, and a young adult pastor for several years. I then decided to go to Denver Seminary, to pursue my Masters in youth ministry. My first two classes were in counseling and after taking those classes, I realized that I had been working in the wrong field by understanding my temperament better. At that point I was just beginning to learn and understand temperament. So after taking those first two classes, I was really encouraged and changed my major to counseling, with the goal of working with adolescents- because I still had a passion for working with youth. Ever since in my counseling career, more than half of my work has been with adolescents or in conjunction with their families
Tell us about what inspired you and your co-authors to write this book.
Part of the inspiration for this work stems from the rough contrast between my dreaming to go into the ministry, which focused heavily on theology and public speaking versus my training to be a professional therapist, which obviously is a totally different barrel of monkeys. One of the things that really stood out was how much more training in emotional intelligence and related topics are in a counseling program. Look at our counseling program at DMU for example, we work hard at developing emotional self-awareness. When working with clients, a therapist who is not self-aware runs quite a bit more risk of countertransference, of ethical violations, being ineffective, unhealthy and all sorts of things. What I know, having been in both worlds, is that pastors, ministers, priests, and those who work in religious settings- especially congregational have the same emotional charge in their work. And the issues they [ministers] face are just as heavy. While they may not go as deeply as a therapist they still encounter so much that it is unfortunate that there isn't anything in place for them in most theological training programs available so that they have that.
Another area where there is a lack of training is in conflict management. I was interested in conflict management in ministry because of my own experience with it and the research I had done for my Ph.D (which is in educational leadership, research and policy). In my ministry before I wondered if I was the only one struggling or is this a phenomenon that takes place for those going into the ministry; that they lack training in these areas of emotional self-awareness, conflict management, influence, organizational awareness, all the things that we ended up writing about. But to get there, I began research studies. I started with the idea I mentioned before and did a phenomenological study with pastors, interviewing them on all 18 of Goleman's emotional competencies.
How did you settle on the six competencies highlighted in the book?
So as part of my dissertation in qualitative study, I had to deep dive into all of these interviews and I ended up coming away with about 800 pages of interviews with pastors and ministers talking about how important all of the EQ skills were. They had all come to recognize that the skills were important, but all reported that they had virtually had no training in it during their formal education. Now, that isn't to say that many had not developed skills in those areas. If they had any of those skills, they had to go get them, through therapies, spiritual direction, and studying self-help books in the process of their post-graduate spiritual formation. Some of them even had coaches- ministry coaches. By hook or by crook, they would go and claw it out because they were trying to survive and become healthy for their congregations. They just realized that they needed it and they didnt have it yet. When asked about how they handled difficulties before most said that, "I just for the longest time I would avoid it altogether because I didn't know what to do."
After the dissertation I had so much material and was able to draw a lot of conclusions and implications that showed a need for more training in emotional intelligence. I was also able to see which traits seemed to be the most prominent and so on. So from that, came the six:emotional self-awareness, emotional self-control, empathy, organizational awareness, influence (establishing your influence), and conflict management.