Date
Sep 23 2023
Expired!
DMU Open House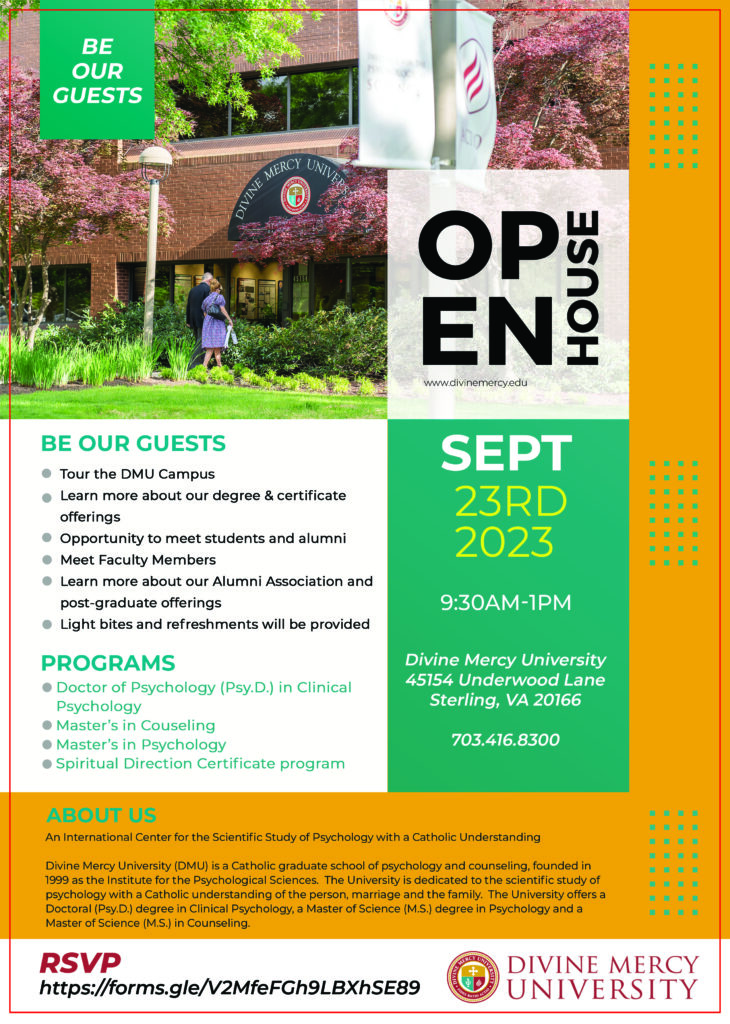 Join us for an Open House on September 23, 2023! We have an exciting and informative program designed for you to discover all we have to offer you here at Divine Mercy University. You'll meet with faculty and learn about our graduate school academic programs, learn more about the internship opportunities awaiting you, and explore how our education and network of students and alumni abroad will take you around the globe with the exciting outcomes our students are open to!

You'll also learn more on our application and financial aid process, scholarship and tuition discounts opportunities, and hear from current students about life at DMU and what post-graduate opportunities we offer.

Parking and Schedule
Free and ample parking will be available at Divine Mercy University.

Address:
45154 Underwood Lane
Sterling, VA 20166

Schedule
Sign in & Campus walkthrough 9:30-10:15
General Session/Welcome 10:15-10:30 am
10:30-10:50 Breakout Sessions: All programs
11:00-11:20 Breakout Sessions: All programs
11:30am-12pm- Q&A with students/alumni
12-12:30pm- presentations on FA, Scholarships, and other departments
Campus walkthrough 12:30-1 pm (individual/group tours)
*Breakout Sessions will occur on the first floor in rooms 150 & 160. These sessions will run simultaneously during each time slot:

Student Services & Alumni Association
Admissions and an Affordable Catholic Education
DMU Experience (Campus Ministry, SLC (Student Leadership Committee), Library/Digital Learning)

Light bites and refreshments in various locations will be provided.

Need Accommodations?
Should you or your family require any accommodations for persons with disabilities, please call our Sr. Director of Marketing Director 703-291-8188, or send an email to nalmomani@divinemercy.edu

Hotel Reservations

Hotel(s) offering special group rate:
Fairfield Inn & Suites at Dulles Airport for $99 USD per night

Book your group rate for DMU Open House

Ground and Local Travel:
For travel between DMU's Campus and the Fairfield Inn and Suites:
The hotel is within walking distance of the University. Please use caution when walking between
the two locations as there are double-lane roads.

Transportation Notes:
The map feature on your phone or other electronic device is also great for route planning!
Even if you are familiar with the area, consider using WAZE or Google Maps to ensure the
fastest route during heavy traffic.
The University is unable to arrange taxi rides for guests. Anyone planning to use a taxi service
during any part of their transportation is responsible for those arrangements.

Other Modes of Transportation
Metro: Please note that the Silver Metro line is now open with a stop at Washington Dulles International Airport (IAD) and the vicinity. If you intend to use public transportation to travel from/to that area, it will require some planning, and most likely multiple modes of transportation.
Ride Sharing
Rental Car
Uber/Lyft
Taxi

Air Travel:
There are 3 major airports that are near the DMU campus in Sterling, VA
Dulles International Airport (IAD): 5 min drive to DMU Campus (Sterling) and the Fairfield Inn and Suites
Reagan National Airport (DCA): 32 min drive to DMU Campus (Sterling)
Baltimore-Washington International Airport (BWI): 70 min drive to DMU Campus (Sterling)