Gabriel S. Dy-Liacco, Ph.D.
Faculty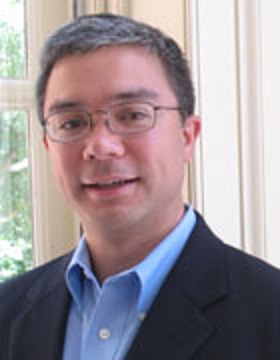 Gabriel S. Dy-Liacco, Ph.D.
Associate Professor
Education
Ph.D. Loyola University, Pastoral Counseling
M.S. Loyola University
A.B. Ateneo de Manila University
Contact
Biography
Gabriel Dy-Liacco was born the youngest of six children in 1969 in Lima, Peru to Filipino parents. He lived in Peru for two years, spent the next seven years in Japan, and then moved to the Philippines where he lived until young adulthood.

Dr. Dy-Liacco is an Associate Professor of the School of Counseling of Divine Mercy University (Virginia, USA), an Adjunct Professor of the School of Psychology and Counseling of Regent University (Virginia, USA), and was a full member of the faculty of the Department of Pastoral Counseling of Loyola University Maryland. He serves on the scientific advisory board of the Centre for Child Protection of the Pontifical Gregorian University as well as on the editorial boards of several mental health journals. His own research focuses on the relationships among faith, spiritual experience, spiritual struggles, and psychological flourishing. He maintains a clinical practice, provides organizational consulting for dioceses, religious orders and educational institutions, conducts workshops for religious and diocesan formators, conducts parenting workshops, and is the institute manager of a newly created Child Safeguarding Institute within Emmaus Center for Psycho-Spiritual Formation, a Philippine Jesuit ministry serving the needs of the hierarchy and religious of the Church in Asia since 1983.

Dr. Dy-Liacco holds a Ph.D. in Pastoral Counseling from Loyola University Maryland and is a licensed professional counselor. Pastoral counseling is a unique discipline that carefully integrates psychotherapy and spirituality. Dr. Dy-Liacco began his clinical mental health work in 1999 and has focused on the treatment of individuals, couples, families and groups for a wide range of issues. These include adult and childhood abuse and trauma, psychiatric diagnoses, personality disorders, addiction, and non-psychiatric problems in living. Since 2006, he has been working almost exclusively with perpetrators of sexual abuse and adults who were childhood victims of abuse by clergy and other persons in ministry, beginning with the St. Luke Institute (Maryland, USA), and, since 2010, in the Philippines.

On December 17, 2014, Pope Francis appointed Dr. Dy-Liacco to the Pontifical Commission for the Protection of Minors and Vulnerable Adults, and this appointment was reconfirmed in February 2018. The Pontifical Commission for the Protection of Minors and Vulnerable Adults is tasked with advising the Holy Father on safeguarding matters within the Church and helping him promote responsibility for the safeguarding mission among the particular churches.