The DMU's academic press is committed to publishing first-class books in areas relevant to the University's mission, especially the areas of integrated psychology, psychology and faith, philosophical psychology, clinical psychology, and philosophical anthropology. The DMU Press has two series: The Monograph Series and The John Henry Cardinal Newman Series.
Titles in the Saint John Henry Cardinal Newman Series:
God, Religion, and Civil Governance (2014)  with essays by Hadley P. Arkes, Ph.D., John M. Finnis, Ph.D., Robert P. George, J.D., Monsignor Livio Melina, Daniel N. Robinson, Ph.D., and Roger Scruton, Ph.D.
Philosophical Psychology: Psychology, Emotions, and Freedom (2009) with essays by Kevin L. Flannery, Benedict Ashley, Roger Scruton, Ceslas Bernard Bourdin, Aidan Nichols, Richard Sorabji, and Daniel Robinson.
The Psychology of Character and Virtue (2009), with essays by Robert Audi, Fred Miller, John Rist, Daniel Robinson, Richard Swinburne, and Charles Taliaferro.
Christianity and the West: Interaction and Impact in Art and Culture (2009), with essays by John Haldane, Stanley Hauerwas, Ralph McInerny, Daniel N. Robinson, Guy Bedouelle, Peter John Cameron, and C. William Westfall.
On the Wings of Faith and Reason: The Christian Difference in Culture and Science (2008), with essays by Edmund Pellegrino, Kevin L. Flannery, Robert Sokolowski, Jude Dougherty, Richard John Neuhaus, Peter Kreeft, and John Haas.
The Person and the Polis: Faith and Values within the Secular State (2007) with essays by Hadley Arkes, Romanus Cessario, Robert George, Michael Novak, Daniel N. Robinson, Kenneth Schmitz, and Paul C. Vitz.
The Monograph Series
The Monograph Series publishes original scholarly works that promote studies in the broad field of the integration of psychological sciences, mental health practice, and Catholic Christian faith. The University espouses the view that interdisciplinary conversations among experts in psychology, philosophy, and religion and spirituality serve to advance our understanding of what constitutes both the mental well-being and the spiritual flourishing of the human person.
The Monograph Series titles include: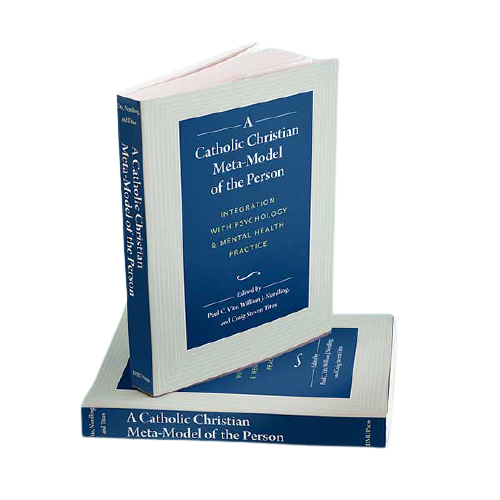 Paul C. Vitz, William J. Nordling, & Craig Steven Titus. (2020). A Catholic Christian Meta-Model of the Person for Psychology and Mental Health Practice.
Benedict Ashley, O.P. (2013). Healing for Freedom: A Christian Perspective on Personhood and Psychotherapy.
Kevin L. Flannery, S.J.,(2012). Christian and Moral Action.
Kenneth L. Schmitz, Ph.D., (2009). Person and Psyche.
Fergus Kerr, O.P., F.R.S.E. (2008). 'Work on Oneself': Wittgenstein's Philosophical Psychology.