Postgrad, IPS Center Excited to Serve Loudoun
Over the summer of 2019, Divine Mercy University (DMU) made its highly anticipated move from Crystal City, just outside of Washington D.C., to its new campus in Sterling, Virginia. In addition to the big move, DMU also brought in some new faces, including Psy.D. graduate Dr. Kristi Stefani, who is helping bring mental health services to the community.
Originally from Montana, Dr. Stefani joined the IPS Center for Psychological Services staff in August as a postdoctoral fellow and resident for the new training year. We caught up with Dr. Stefani to learn more about her experience with DMU, and what we can look forward to for the IPS Center.
How did you learn about Divine Mercy University/IPS?
Someone from my parish back in Montana recommended and researched the program. So I got connected and spent six years as a doctoral student in the program. As I was discerning future career paths, I knew I wanted a postdoc experience in an academic setting. I wanted one where I was deeply passionate about the mission and benefited from my own formation, but I also wanted to be a part of forming new clinicians and being involved in their training experience. 
What has your experience with Divine Mercy University been like so far?
I would say that it's been largely a growing process, both as a student and now as a staff member. We recognize there is an evolution; we're growing as an institution, and that's really coincided with both our relocation and my coming on as a staff person. There's a lot of dialogue about how we can do this successfully. What I've appreciated is that the response of the faculty, staff and students here is very generous and they've taken a collaborative approach to working through challenges as they arise.
For me, no institution is perfect. But I decided to stay with DMU for a postdoc because there is a sense of purpose that goes beyond my occupation or how I make a living. There's something greater here. And that's what I enjoy most, this sense of purpose shared amongst the people who work here and come here as students.
As a former student, I can share with the students currently in the programs that there's a lot of emphasis on being formed both personally and professionally; there's a lot of emphasis on who you are as a person for your professional role to matter. The investment of the faculty and school goes beyond academics to your personal formation, as well.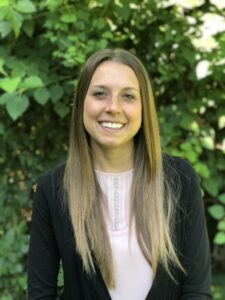 What moment from your time with DMU stands out the most to you?
Just pointing at a single moment is hard, because there are so many to choose from!
When I was doing my internship–and even at other sites where I've worked–I trained alongside people who were in different programs and had a different experience. While working alongside these people, I recognized the perspective I was being offered at Divine Mercy University was very unique, and it comes from incorporating multiple disciplines. It's not one-way psychology being taught, but a greater vision of the person. I'm very reflective and existential myself, and having those aspects attended to and having people who were actively trying to consider this robust understanding of the human experience–that it wasn't just limited to psychological research–really impacted me on a personal level. I was learning how to understand myself and the people I work with. I experienced that as a student, too, with faculty who were really invested in me as a person, and wanted to help me grow both personally and professionally. Not all programs are structured in that way.
From your observation, how has the IPS Center impacted mental health services the communities in the D.C. area, and now in Loudon County?
The IPS Center is unique in that it meets needs that a lot of other clinics can't. One is financial access for people. I know that fees present a real challenge for many people and can be a real barrier to receiving therapy.
Another significant component is a willingness to honor and respect a client's faith, and a willingness to discuss and explore that faith in therapy. We're very open to everyone who comes in. We don't place an expectation that faith must be discussed. We have an openness to all aspects of what is important to the client. That openness is part of our professional ethics: that we're attentive to all facets of somebody's experience, and we know that in this area in particular, there are a number of different faith communities from various backgrounds for whom having that openness is very helpful.
Our mission as a program and a clinic states explicitly that faith and spirituality are a component, and we know that is attractive to people. Research shows this is important to people, but it's not always highlighted as something that would be attended to in one's therapeutic work.
There's also been this stigma or even a divide over the questions of faith's compatibility with psychology, which can lead people to avoid reaching out to mental health services. Instead, they may be more inclined to reach out to their pastor or their church community. But often, the people they reach out to are not prepared or equipped to meet their needs. With that in mind, the IPS Center can provide a great value and serve people in need. Often, we find that clients are looking for something that is Christian-based; they're looking for someone with a Catholic understanding of the human person; they're looking for someone that's respectful of the holistic nature of who we are.
In my clinical work, people often share that they've had past experiences where they didn't feel free to disclose the spiritual part of themselves. And that reaction to stigma hindered the growth that they could have accomplished.
How do you see the clinic impacting the local community?
Moving out to a new area and building the clinic in a new location has been a process that takes a fair amount of time. What we'd like to offer the community, through the training that the students receive, is a level of mental health care and compassion that they currently don't have access to.