DMU Coronavirus (COVID-19) Updates
The well being of all members of the DMU community is a high priority, and we continue to monitor the risks of the coronavirus to our students, faculty, and staff. Since the situation is fluid and rapidly evolving, we continue to work diligently to keep the DMU Community informed through emails, this web page, and social media. This page will be updated often to keep you informed of new developments. Please use the links to the left to locate the most recent COVID-19 resources from DMU.
COVID-19 EMPLOYEE AND STUDENT DISCLOSURE FORM
Help us keep the DMU community healthy and safe. Please use this form to timely notify confidentially notify DMU's COVID Response Team about your potential exposure to COVID-19. Reporting your potential exposure will have no adverse consequences to employment or student status. Further, your privacy is protected in accordance with DMU's policies and applicable federal privacy regulations including ADA, EEOC, and FERPA.
As we enter the Advent season and winter months, we would like to update you about the recent modifications to the CDC's COVID-19 guidance and ways in which we can all help keep our University community safe during the COVID-19 pandemic. These updates are presented as Frequently Asked Questions as these updates relate to the University's policies and procedures in place to protect our entire University community. These updates comply with the guidelines of the CDC, State of Virginia Department of Health, and regulatory agencies. Included are links to relevant information from the CDC website that provide more details and may be helpful in answering additional questions.
FREQUENTLY ASKED QUESTIONS
What are COVID-19 symptoms?
People with COVID-19 have had a wide range of symptoms reported – ranging from mild symptoms to severe illness. Symptoms may appear 2-14 days after exposure to the virus. According to the CDC, people with these symptoms may have COVID-19:
Fever or chills
Cough
Shortness of breath or difficulty breathing
Fatigue
Muscle or body aches
Headache
New loss of taste or smell
Sore throat
Congestion or runny nose
Nausea or vomiting
Diarrhea
I feel sick but I do not know if it is COVID-19. Should I come to campus?
If you have COVID-19 symptoms, please do not come to campus. For yourself and as a courtesy to others, please stay home, rest and recover so you do not expose others, and notify your academic advisor or supervisor. If you think you may have been exposed to COVID-19, contact your healthcare provider.
HERE is a link from the CDC website that has detailed information regarding what to do if you feel sick with COVID-19 symptoms.
When may I return to campus?
If you are sick with COVID-19 or think you might have COVID-19, you may return to campus once all three of the following conditions are met:
It has been 10 days since your symptoms first appeared; AND
You have had no fever without the use of fever-reducing medications for 24 hours; AND
Your other symptoms of COVID-19 are improving (Note: loss of taste and smell may persist for weeks or months after recovery and need not delay the end of isolation​).
I was in close contact with someone who has COVID-19. Should I quarantine?
Close contact is defined by the CDC as:
Being within 6 feet of someone who has COVID-19 for a total of 15 minutes or more
You provided care at home to someone who is sick with COVID-19
You had direct physical contact with the person (hugged or kissed them)
You shared eating or drinking utensils
They sneezed, coughed, or somehow got respiratory droplets on you
If you were in close contact with someone who has tested positive or been diagnosed with COVID-19 you should
Contact your supervisor or advisor and fill out the form.
quarantine for up to 14 days after your last contact with that person and monitor your health.
The CDC now recommends two additional options for how long quarantine should last. Based on local availability of viral testing, for people without symptoms quarantine can end:
On day 10 without testing
On day 7 after receiving a negative test result
After stopping quarantine, people should
Watch for symptoms until 14 days after exposure.
If they have symptoms, immediately self-isolate and contact their local public health authority or healthcare provider.
Wear a mask, stay at least 6 feet from others, wash their hands, avoid crowds, and take other steps to prevent the spread of COVID-19.
The CDC continues to endorse quarantine for 14 days and recognizes that any quarantine shorter than 14 days balances reduced burden against a small possibility of spreading the virus. CDC will continue to evaluate new information and update recommendations as needed.
If you develop COVID-19 symptoms, please follow the guidance provided under FAQ "I feel sick but I do not know if it is COVID-19. Should I come to campus?" above.
Who should I contact at DMU if I need to quarantine or isolate?
Please fill out the COVID Reporting Form and contact your supervisor directly if you believe you need to quarantine or isolate. The COVID response team may contact you directly if they have questions related to the potential spread of the disease on campus and to determine if further reporting is necessary. Please be aware that your identity and privacy will be protected throughout the process.
What's the difference between quarantine and isolation?
Quarantine is used to keep someone who might have been exposed to COVID-19 away from others. Quarantine helps prevent spread of disease that can occur before a person knows they are sick or if they are infected with the virus without feeling symptoms. People in quarantine should stay home, separate themselves from others, monitor their health, and follow directions from their state or local health department.
Isolation keeps someone who is sick or tested positive for COVID-19 without symptoms away from others, even in their own home.
I would like to telecommute while I quarantine. How do I arrange that?
If you have not filled out the Telecommute Agreement form, please ask your supervisor to provide the form. You will need to discuss the details regarding work expectations with your supervisor.
There are some employees at DMU that are required to be on campus to complete their responsibilities. Their supervisor and Human Resources will communicate directly with those employees regarding COVID-19 protocols related to their roles and responsibilities.
If I plan to travel, do I need to quarantine for 14 days before returning to campus?
As of today, December 1, 2020, the State of Virginia, the CDC, and the University do not require individuals to quarantine if they have traveled. HERE is the link to the CDC for frequently asked questions for those planning to travel both internationally and domestically. This link provides access to recommendations for individuals planning to travel.
Because the COVID-19 Pandemic is a quickly evolving situation, state and local quarantine and travel requirements/restrictions may change. The CDC has provided access HERE to get important information as you consider traveling to different cities and states across the United States. By entering a city, zip code, or address at this link you will get up to the minute information regarding COVID-19 travel restrictions, guidance, and resources at your destination.
Looking for the latest updates? Get them here
Students who have been financially affected by the coronavirus may be eligible for financial assistance through the CARES grant. For more information, click here.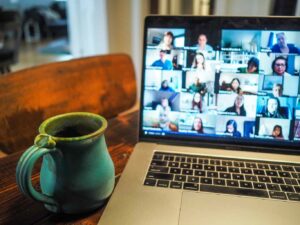 Learning Remotely
As many of you are transitioning to an online learning environment, try focusing on three key areas:
Prioritize your health, and care for your physical and mental well-being.
Stay engaged with your courses, and communicate with your instructors regularly.
Familiarize yourself with key tools such as Canvas and Zoom, and make sure you can access these resources on the devices available to you in your current location.
Need help? Reach out to support@divinemercy.edu.
Teaching Remotely
Here you will find tips for teaching remotely. If you need any help with Zoom or setting up your Canvas classroom, such as creating announcements, assignments and assessments, please contact support@divinemercy.edu.
Working Remotely
To protect the health and safety of the staff, temporary guidelines for teleworking have been established by the Executive Team. Questions regarding the policies and procedures for staff to telework should be addressed directly with your supervisor.
"We must rediscover the concreteness of little things, small gestures of attention we can offer those close to us, our family, our friends. We must understand that in small things lies our treasure."
~ Pope Francis